The Study of Language By George yule 5th Edition
₨1,200.00
Edition: 5th Edition
Pages: 335
Book Code: 721
ISBN-13: 9781139699198
Add to quote
Compare
Book Name: The Study of Language
Book Author : ( i ) George Yule
Book Publishers: : Cambridge University Press
Publish Date: (March 2014)
Format: Hand Book
Language: English
Category: English Essay & English Grammar Books
Edition: 5th Edition
Pages: 335
Book Code: 721
ISBN-13: 9781139699198
Book Quality: Paperback
Additional information
| | |
| --- | --- |
| Weight | 0.500 kg |
| Dimensions | 12 × 5 × 2 in |
| Book Binding | Paperback |
| Language | English |
| Edition | 5th Edition |
| Pages | 335 |
| Book Code | 721 |
| ISBN-13 | 9781139699198 |
| Publisher Name | Cambridge University Press |
About Book
This bestselling textbook provides an engaging and user-friendly introduction to the study of language. Assuming no prior knowledge of the subject, Yule presents information in bite-sized sections, clearly explaining the major concepts in linguistics – from how children learn language to why men and women speak differently, through all the key elements of language. This fifth edition has been revised and updated with new figures and tables, additional topics, and numerous new examples using languages from across the world. To increase student engagement and to foster problem-solving and critical thinking skills, the book includes thirty new tasks. An expanded and revised online study guide provides students with further resources, including answers and tutorials for all tasks, while encouraging lively and proactive learning. This is the most fundamental and easy-to-use introduction to the study of language.
George Yule
From the Glenwood Post August 13, 1910
CALL OF THE ROLL FOR GARFIELD PIONEER GEORGE YULE, PROMINENT RANCHMAN AND BANKER, LONG IDENTIFIED WITH GARFIELD COUNTY'S INTEREST, PASSES AWAY. IMPRESSIVE GAR FUNERAL
Another of Garfield's pioneers has answered the roll call and gone to his long home and the places that knew him will know him no more forever.
Many were the sad hearts when the word was passed around that George Yule who has been in poor health for the past two years had gone to his reward, death coming last Monday morning in Salida where he had gone for treatment sometime ago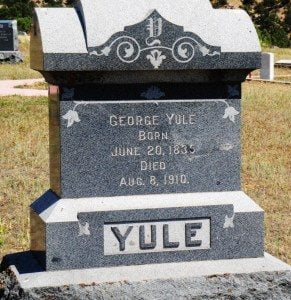 Only logged in customers who have purchased this product may leave a review.
Sorry no more offers available