₨1,200.00
Pages: 279
Book Code: 492
ISBN-10: 0345350685
ISBN-13: 9789990065169
Add to quote
Compare
Book Name: The Autobiography of Malcolm X Book
Book Author : ( i ) Malcolm X ( ii ) Alex Haley ( iii ) Attallah Shabazz
Book Publishers: : Ballantine Books
Publish Date: (November 1992)
Format: Hand Book
Language: English
Category: English Novels
Edition: Reissue Edition
Pages: 279
Book Code: 492
ISBN-10: 0345350685
ISBN-13: 9789990065169
Book Quality: Paperback
Additional information
| | |
| --- | --- |
| Weight | 0.500 kg |
| Dimensions | 12 × 5 × 2 in |
| Book Binding | Paperback |
| Language | English |
| Pages | 279 |
| Book Code | 492 |
| ISBN-13 | 9789990065169 |
| Book Publishers: | Ballantine Books |
About Book
In the searing pages of this classic autobiography, originally published in 1964, Malcolm X, the Muslim leader, firebrand, and anti-integrationist, tells the extraordinary story of his life and the growth of the Black Muslim movement. His fascinating perspective on the lies and limitations of the American Dream, and the inherent racism in a society that denies its nonwhite citizens the opportunity to dream, gives extraordinary insight into the most urgent issues of our own time. The Autobiography of Malcolm X stands as the definitive statement of a movement and a man whose work was never completed but whose message is timeless. It is essential reading for anyone who wants to understand America.
About Author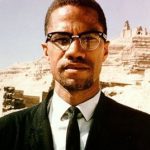 Malcolm X was born Malcolm Little on May 19, 1925 in Omaha, Nebraska. His mother, Louise Norton Little, was a homemaker occupied with the family's eight children. His father, Earl Little, was an outspoken Baptist minister and avid supporter of Black Nationalist leader Marcus Garvey. Earl's civil rights activism prompted death threats from the white supremacist organization Black Legion, forcing the family to relocate twice before Malcolm's fourth birthday.
Only logged in customers who have purchased this product may leave a review.
Sorry no more offers available